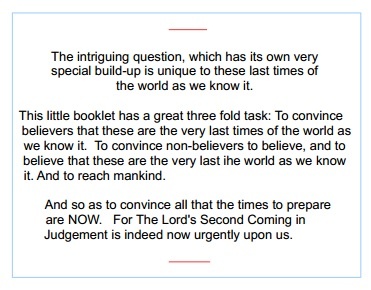 Booklet
You can read it in full here on-line. See: Booklet, Read It here.
Booklet, read it here:
A Question ( a set Question) and unique to these very last times of the world that we are now in: (Please do read the Booklet, as is normal...
The title: A Catholic Question: To Secularists, and All Non-believers Of The Last Times.
A Booklet To Reach Believers And Non-Believers: To Reach Mankind.
Please see: Booklet read it here.
Please note that these buttons are not currently in use.
USA and rest of the world