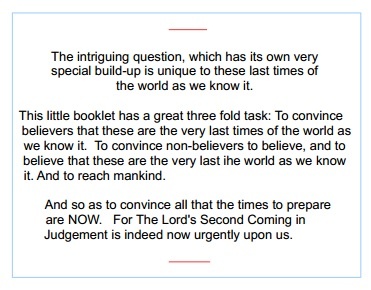 Booklet
For buying a paper copy of The Booklet, please see details below. You can also read it in full here on-line. See: Booklet, Read It here.
Booklet, read it here:
A Question ( a set Question) and unique to these very last times of the world that we are now in: (Please do read the Booklet, as is normal...
The title: A Catholic Question: To Secularists, and All Non-believers Of The Last Times.
A Booklet To Reach Believers And Non-Believers: To Reach Mankind.
IF YOU WOULD LIKE TO BUY A COPY OF: A SHORT GUIDE TO UNDERSTANDING THE APOCALYPSE. PLEASE USE BUTTONS BELOW AND include a note: Please send Guide To The Apocalypse.
The booklet is £1.50 (this is at or less than cost price)
Postage is at concessionary prices.
Please also see Buying the Booklet page for larger orders at reduced postage costs.
UK
postage UK: £1.01. Total price is £2.51
Europe
postage Europe (all postal zones) is £2.65. Total price is £4.15
USA and rest of the world
Postage USA & rest of world is £3.30. Total price is £4.80
USA and rest of the world