Devotion To The Sacred Heart Of Jesus.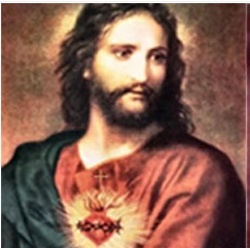 This great devotion of many great graces. Well known from the earliest times.
Devotion to Our Lord's Sacred Heart is one of the oldest and greatest devotions in the Church. It is a doctrinal devotion, grounded firmly in the great reality that is the Love of Our Lord God and Saviour, Jesus Christ. The devotion was well known in the Early Church and encouraged by the Fathers of the Church.
It continued to be well known down through the centuries; Saint Gertrude, Saint Francis de Sales, Saint Chantelle, Saint John Eudes, are just a few of the saints associated with it that come to mind and, of course, the devotion came to great prominence in that late 17th and during the eighteenth century, following the work and mission of St Margaret Mary and Claude de la Colombiere in the late 17th century. Sr/St Margaret Mary had reported her receiving revelations of Our Lord; of His Sacred Heart; the revelations were approved by the Church.
Sr(St) Margaret Mary was a nun of The Visitation Order (Visitation Of The Blessed Virgin.) And which had been founded earlier in the seventeenth century by St Francis de Sales, and St Jane de Chantal.
Even though an enclosed Order, the sisters' determined efforts ensured that a great mission took hold: Pictures and prints of the Sacred Heart were distributed, prayers, pamphlets, and booklets were written and translations into different languages made. Consecrations to the Sacred Heart were taking place, and confraternities involving several countries were established. Pilgrimages were undertaken and chapels built. The clergy and the laity facilitated their work. The Jesuits were actively involved and the devotion spread rapidly. The following letter tells of the work and is also a revealing of the strength of the Faith; in the context of the laity, and religious houses, at that time.
"Finally, dear Mother, it is consoling to hear of the great progress this lovable devotion is making. We hear from Lyons that it is almost miraculous how frequently and eagerly everyone practices it. Three or four towns have been mentioned which are going to have these books printed. Marseilles is one of them. There will be a thousand for that city alone. And of the twenty-seven religious houses in this city there is not a single one that has not taken up this devotion with fervor. Some are erecting altars to the Sacred Heart, others are having chapels built. As soon as the people of Marseilles heard the devotion spoken of they importuned preachers to give them sermons about it and to carefully explain this devotion to them..." Sr(St) Margaret Mary, from her letters.*
It was from this great mission that the Churches, Chapels, Altars, etc dedicated to The Sacred Heart took shape across Europe and beyond.
The Popes greatly encouraged devotion to the Sacred Heart of Jesus, and as the Church moved into the 20th century, increasingly associated it with Christ The King. Pope Leo XIII wrote his encyclical on The Sacred Heart (Annum Sacrum) in 1899, and which accompanied his consecrating the world to The Sacred Heart, and which he described as "the greatest act of my pontificate."
Devotion to Our Lord's Sacred Heart is a most fruitful devotion and to be treasured. And the Church has rightly always encouraged it.
* The Letters of St Margaret Mary Alacoque. Apostle of The Sacred Heart. tan Books 1997 p166.
The following is a very special prayer:
A Prayer to Jesus.
Preparing for the Lord should always bring to mind how we must Love God, and always strive to do so. The renowned Spiritual director...
A Salutation To The Sacred Heart.
A Salutation To The Sacred Heart
(By Saint Margaret Mary Alacoque)
Hail, Heart of Jesus, save me!
Hail, Heart of my Creator, perfect me!
Hail, Heart of my Saviour, deliver me!
Hail, Heart of my Judge, grant me pardon!
Hail, Heart of my Father, govern me!
Hail, Heart of my Spouse, grant me love!
Hail, Heart of my Master, teach me!
Hail, Heart of my King, be my crown!
Hail, Heart of my Benefactor, enrich me!
Hail, Heart of my Shepherd, guard me!
Hail, Heart of my Friend, comfort me!
Hail, Heart of my Brother, stay with me!
Hail, Heart of the Child Jesus, draw me to Thyself!
Hail, Heart of Jesus, dying on the Cross, redeem me!
Hail, Heart of Jesus in all Thy states, give Thyself to me!
Hail, Heart of incomparable goodness, have mercy on me!
Hail, Heart of splendour, shine within me!
Hail, most loving Heart, inflame me!
Hail, most merciful Heart, work within me!
Hail, most humble Heart, dwell within me!
Hail, most patient Heart, support me!
Hail, most faithful Heart, be my reward!
Hail, most admirable and most worthy Heart, bless me!
Pange Lingua Gloriosi.
Pange Lingua Gloriosi. By St Thomas Aquinas. Often shortened to its final two stanzas, "Tantum Ergo." Most often: Corpus Christi, Holy...
Devotions.
Recollections: Prayers and Devotions, and meditations on scripture are vital, and they help us to develop strong "recollections" and...